Dear readers, I am absolutely honored and thrilled to share the second part of Caisey Quinn's
LEAVING AMARILLO
cover with you! I was able to see the whole cover last week and it still hits me with just how PERFECT it is for this book.
Without any further ado, here it is: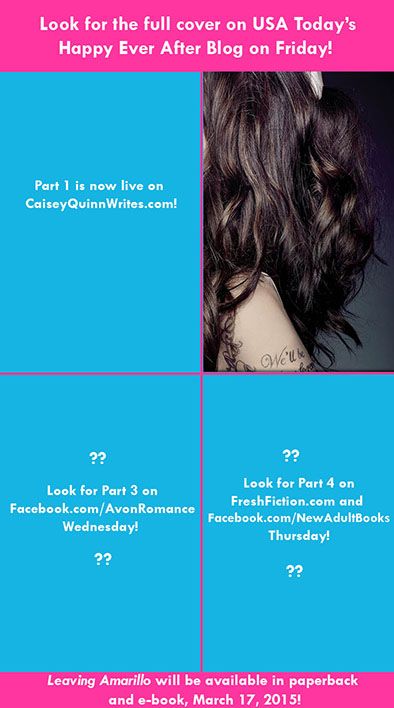 Just two more parts to go!! Are you intrigued? Check out the new synopsis for the book and see why this is one of my most anticipated reads of next year!
Leaving Amarillo (Neon Dreams #1) by Caisey Quinn
Genre: New Adult Contemporary
Expected Publication Date: March 17th, 2015


Some promises are made to be broken...

Music is my everything.
After my parents died when I was a kid, moving into my grandparents' ramshackle house on a dirt road in Amarillo seemed like a nightmare. Until I stumbled upon my grandfather's shed full of instruments. My soul lives between the strings of Oz, my secondhand fiddle, and it soars when I play.

In Houston, I'm a typical college student on my way to becoming a classically trained violinist headed straight for the orchestra pit. But on the road with my band, Leaving Amarillo, I'm free.

We have one shot to make it, and I have one shot to live the life I was meant to. Leaving Amarillo got into Austin Music Fest and everything is riding on this next week. This is our moment.

There's only one problem. I have a secret...One that could destroy everyone I care about.

His name is Gavin Garrison and he's our drummer. He's also my brother's best friend, the one who promised he'd never lay a hand on me. He's the one person I can't have, and yet he's the only one I want.

One week.
One hotel room.
I don't know if I can do this.
I just know that I have to.
About the Author:

Caisey Quinn lives in Birmingham, Alabama with her husband, daughter, and other assorted animals. She is the bestselling author of the Kylie Ryans series as well as several New Adult and Contemporary Romance novels featuring southern girls finding love in unexpected places. You can find her online at www.caiseyquinnwrites.com.

She is represented by Kevan Lyon of the Marsal Lyon Literary Agency.
Where to purchase & learn more:
Available for Pre-Order NOW!!
PURCHASE HERE
all the best, dear readers!